The Digital Discovery Center is located in the same building as Pembroke Kids. Our after school daycare enrichment curriculum is fun and age appropriate. The environment is safe and nurturing and run by experienced teachers.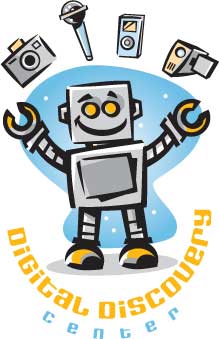 We include a variety of opportunities for young children to explore computer technology, filmmaking, photography, and more traditional arts, crafts and literacy activities. Stopmotion animation, building with LEGO Technics and programming LEGO robots captivate the older children. Younger children love to build with basic LEGOS and are eager to move beyond just playing computer games to learning how to use computers creatively.
Open at 7:00 a.m. and after school from 2:30 p.m. – 6:00 p.m.
Age appropriate enrichment activities for grades K-6
Daily opportunities to get outside and enjoy our huge outdoor play space
Full day care available when schools are not in session, and during school vacation weeks
Time is always set aside for homework, snacks and quiet time
Discounted cost to attend our Tutoring Program
Avon Lake School Bus before school pickup and after school drop-off
DDC-TV
Become a part of DDC-TV, a kid produced TV program on Avon Lake's Public Access Channel 99.
LEGO's – Build with a Buddy!
Come use our amazing collection of LEGO pieces to create imaginary cars, trucks, buildings, space vehicles, and anything else you can think of. Build with your friends and meet other Legomaniacs. If you can imagine it, you can build it.
Digital Media, Music, and Digital Storytelling
Check out our growing collection of short films on Youtube.com. Our channel name is ddc2000.
COST & SCHEDULING
The Digital Discovery Center closely follows the Avon Lake public school calendar. Avon Lake School buses will pick up and drop off Avon Lake children. You can schedule one or more days per week, mornings or afternoons. Before school care begins at 7:00 a.m. After school care begins at approximately 2:30 p.m. and is available until 6:00 p.m. Arrival times can vary. Tuition is based on the actual number of days scheduled per week. Siblings receive a 10% discount.
Before School Only

After School Only

Before & After School

Weekly

Monthly

Weekly

Monthly

Weekly

Monthly

1 Day

$10

$40

$20

$80

$25

$100

2 Days

$20

$80

$36

$144

$50

$200

3 Days

$30

$120

$48

$172

$70

$280

4 Days

$40

$160

$60

$240

$80

$320

5 Days

$50

$200

$70

$280

$100

$400
REGISTRATION
Additional Forms we need to have on file before your child may attend:
(Each of these pdf files can be viewed with Adobe Acrobat Reader, downloaded and printed)
For more information please call 440-933-3782.